Halloween is one of the best holidays of the year, but picking out a costume that suits you and your significant other can sometimes be a challenge — sometimes it's even scarier than October 31 itself.
If you're still uncertain about what costume you and your boo want to take on this year, let this list inspire you with different ways to spook (or goof) up the party. Either way, you'll surely win the costume contest.
1. Morticia and Gomez Addams
"They're creepy and they're kooky, mysterious, and spooky..." The Addams Family matriarch Morticia and patriarch Gomez are a fun Halloween costume. From the classic show "The Addams Family," you'll be recognizable, but even for someone who isn't familiar with the show, their creepy look is great for Halloween. Plus, it's still easy to have fun at a party in their simple outfits.
2. Avocado Toast
This one's particularly funny if the "avocado" is pregnant, so the baby bump can be the pit.
4. Mermaid and Sailor
Are you mer-made for each other? This beachy costume is anything but washed up. You can find a mini tutorial on how to get this look here.
5. Beetlejuice and Lydia
This classic creepy film is fun for showing off your dark sides. Alternatively, you could dress up as the Maitlands.
7. Ron Swanson and Bacon
Ron Swanson and bacon, Mona Lisa and Jean Ralphio Saperstein, or Burt Macklin and Janet Snakehole... the "Parks and Rec" possibilities are endless!
8. Ash Ketchum and Misty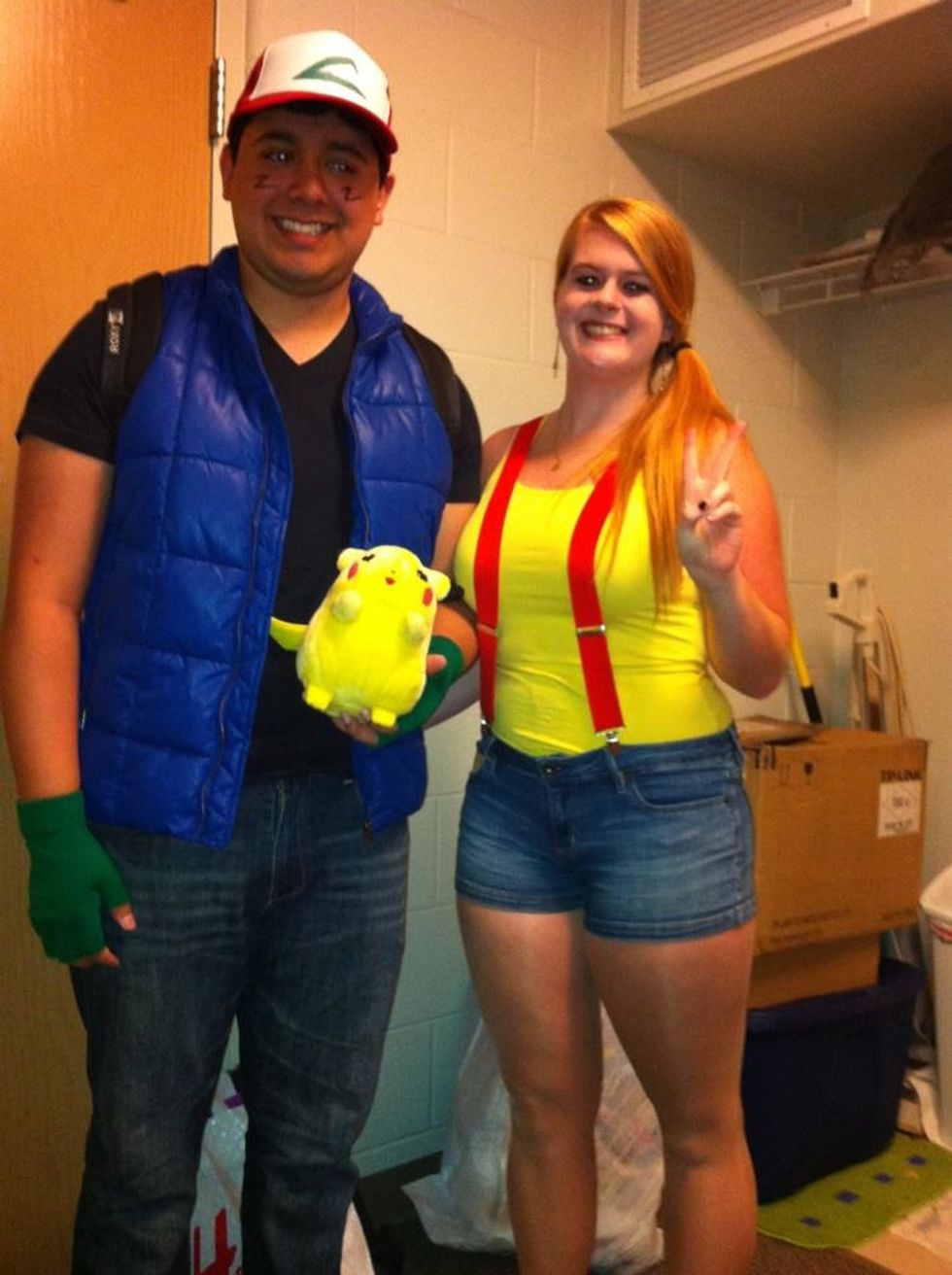 Paige Ryan
This costume is super easy and very recognizable!
9. Suzy and Sam from "Moonrise Kingdom"
Such an iconic movie, this costume has been the choice of many celebrities over the years, including Vic Fuentes and Ariana Grande.
10. Low Battery and No Wifi
Dead batteries and no wifi, oh my!
11. Bank Robbers from "Money Heist" (La Casa de Papel)
12. "The Shining" Twins
13. Pamela Anderson and Tommy Lee
14. Betty and Jughead or Veronica and Archie
Follow Swoon on Instagram.