Now I know this sounds crazy, it sure is to me, but my parents actually didn't meet on a dating app. In fact, Tinder, Bumble, Christian Mingle, MeetaMormon, and other dating sites did not exist. Therefore, people were actually forced to talk face-to-face and interact with each other.
What a concept!
I feel like as the days go on, new inventions arise, app updates blow up our phone, we get more closed off from each other, and sucked into the world of the web. We correspond through a series of text messages and emojis, making it impossible to judge tone. This means miscommunication is a common occurrence.
Nowadays a lot of couples meet on Tinder, or some sort of dating website. And nothing is wrong with that, I just miss the old-fashioned way of dating without the use of technology.
Men used to ask women out on dates in person. Girls would call guys on the phone and they would spend hours talking late into the night. Dates would consist of flowers and a sweet dinner or some romantic gesture.
We have traded those sweet memories and moments for texts to "hang out," as well as a collection of "stories," "streaks," and "goals." Many times, we care more about the picture, than the moment itself. Long and deep conversations are replaced by sitting side-by-side and watching a movie, both on their cell phones.
My parents grew up in a small town together and went to elementary school together. They would all play kickball together, as well as "house." My parents would play the mom and dad in their friend group. In fifth grade, my dad wrote my mom a note. It read, "Want to go out with me?" With two boxes of "yes" or "no." My mom, always the mature one and thinking into the future, thought she was too young to date and checked the no box.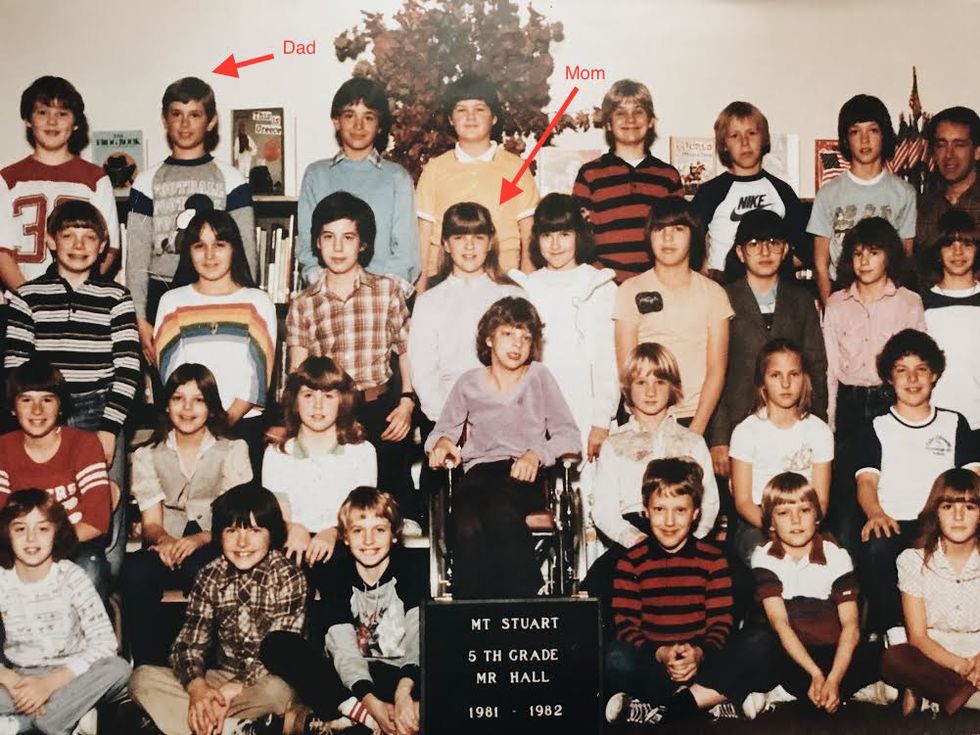 Personal Photo
Shortly after, my mom moved three hours away to a bigger town and spent life going to school, cheerleading, and dating guys who are now either bald or divorced (according to Facebook). My dad stayed in his hometown until he left for college.
They both ended up going to the same college and met one day through mutual friends. They immediately became good friends. After pining after each other for months (neither wanted to risk their friendship), they finally went out on a date. My dad would always call my mom, they would pray together, and they enjoyed each others company. Two weeks later my dad asked my mom if she wanted to marry him as they were hanging out. My mom said yes after they graduated college and a few years later he proposed on a beach and they got married.
Fast forward 25 years later and they have three kids, one dog, have moved to three different states, and are still as ridiculously in love as they were when they met. The closest thing to a fight they've ever had is when my dad is driving and freaks my mom out. They have nothing but kind words for each other and always put each other first. They still go out on little dates and tease each other. My dad once brought home cookies, to which all of us kids ate them. When my mom came downstairs and saw we didn't save any for her (sorry mom), my dad pulled out another box of cookies he had bought just for her.
Cute, right?

My parents didn't have the dating apps or the cell phones. They had to do it the "old-fashioned" way, aka talking and communicating. Their love story is cute and innocent and something I hope I can someday have. I want the cute boy-meets-girl love story that doesn't involve an app.
So as I wait for my story to play out, I will look to my parents for an example of what a beautiful and Godly relationship should be and take notes.