Besides getting married, meeting the parents can be the most stressful time in any relationship. Your boyfriend could be freaking out because he doesn't want to sound like a loon in front of your dad or your mom may be chopping the vegetables a little too loudly making your girlfriend seem uncomfortable in the presence of a knife. Stressing for days (maybe even weeks) up until the day arrives is apart of being in love because you want your parents to love your significant other just as much as you do and when the dinner is finally over, you can breathe again. My family is a little different and my boyfriend has to do these things to be able to meet my mom and my brother (may as well add my cousins into the mix, too because they're my older siblings).
1. Pass the "Best Friends Test"

I have 6 best friends and each one of them has a unique personality. There's the momma friend, the crazy friend, the questionable friend, the laid back friend, the turnt friend, and the friend who just wants me to be happy. If they don't like you, I'll talk to them to figure out why they don't like you. Either way, if you hurt me, they'll hurt you.
2. Prove that stability is your main priority five years from now, even if I'm not in your plan
Things happen and we can't predict everything. We can be together now, break up in a year, and then get back together. It's part of being a teenager/young adult. We deal with a lot, I mean, we're in college, but the older we get, the more stressful life gets, so I want you to show me that you can handle whatever stresses come your way. I want you to be stable on your own before adding a girlfriend into the mix.
3. Deal with my "Hunger Fits"
Let's face it, I can be a brat, but I'm only a brat on three occasions.
1. I'm sleepy.
2. You didn't let me get my way.
3. I'm hungry.
If you eat without me or go get food without me, I might cry and pout like a two-year-old, so you have to be able to handle it. Pro-tip, have snacks with you whenever we go somewhere.
4. Be okay with getting roasted
My cousins are the funniest people you'll ever meet, but they aren't afraid to talk about you while you sit in front of them, so I need to know that you're okay with being roasted. They're not doing it to be mean (trust me, they aren't), but they're doing it because they're my family and they care about me as if I were their little sister.
5. Be able to hold an intelligent conversation for more than 5 minutes
Good conversation is an essential part of a relationship and I love talking about things that are happening in the world today and because my mom is super knowledgeable on a lot of things, you have to be able to talk for more than 5 minutes about something that's engaging.
6. Remain calm in the face of a difficult conversation
I know when it came to certain topics, I used to go off like a volcano, but I've had to grow out of exploding on people just because they don't agree with me. It takes months, maybe even years to master that type of patience and self-restraint, but I grew up fast, so I needed to learn in less than a year how to hold my tongue. I need to know that if you and I (or someone in my family) were to be in a serious conversation, you'd remain calm. I won't blow up on you, so please don't blow up on me (or my family) because then it might not end so well.
7. State your opinion, no matter how mad I might get
Following up with number six, this is a must! I'm a writer, so I deal with a lot of written opinions on the daily. I'm also involved in a lot of organizations where open dialogue is encouraged, so I deal with a lot of verbal opinions, too. People are going to say what they want to say no matter what and I want you to be able to tell me what's on your mind no matter how severe it may be. I'm here for you and I want you to know that you can trust me with your opinions. I might not agree with them, but I can deal with them.
8. Be able to sit and talk about sports and video games with my brother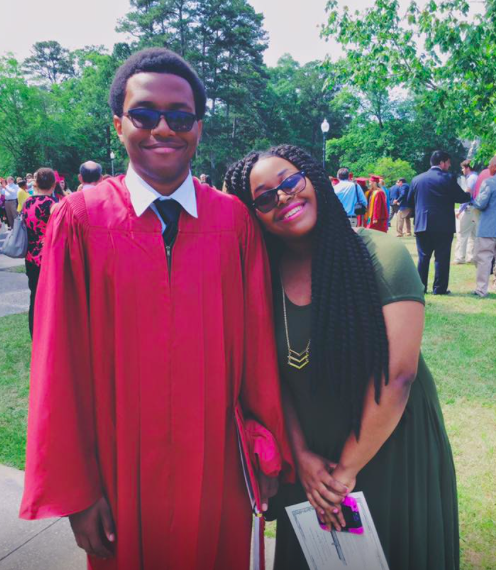 You'll for sure meet my older brother before you meet my mom only because he acts just like my late grandfather; calm and laid back. He goes with the flow and doesn't get upset unless I get upset, so you don't have to worry about the big bad overprotective brother (but he is very big and very overprotective). He'd much rather sit and talk about "fork-knife" or a basketball game than grill you. It's just how he is. Also, don't be offended if he engages in conversation with you for like ten minutes before he loses interest in talking to you and goes back to playing his game.
9. Be okay and open to the possibility of a long distance relationship
I don't plan on staying down South for long. I actually won't stay here after I graduate from college. Long distance relationships don't work for 40% of all couples, but I want us to not be a statistic. I believe that we could make it, so I would need to know that you'd be okay with me being a thousand miles away; and of course, if you were halfway across the country, I would learn to be okay with it, too.
10. Love your family as much as you love me

Family is a big deal for me. It's always been me, my older brother, and my mom. You may come from a household where it's you and both of your parents, you and one parent, or you, your parent(s), and your siblings. I love my mom and brother with all of my heart and would drop anything (and I have dropped things) to be with them. I want to see that you love your family with the same amount of love that you give me. A man who loves the family he is born into will love the family he marries into.
My family's triangle has never been broken before, so this is new territory for all of us. Don't feel like an outsider, though! These may seem extensive and extra, but it's the things that matter to me. Aside from the apparent trustworthiness, loyalty, wanting three pets, having a sense of humor, and education that I look for in a guy, you have to do these ten things to meet my mom.
If you pass all of these, then you get to meet her. Don't stress about it though because if she doesn't like you at the first meeting, she'll come around by the next because she loves me and she'll see that I love you.