I have dreamed of my wedding day all of my life. I wanted to be Katherine Heigl in "27 Dresses."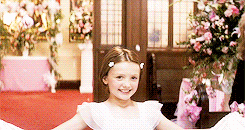 I hoped to be at my friend's weddings, find my person and get married, with all of my friends around me. I'm pretty sure I've seen every scene 1,000 times.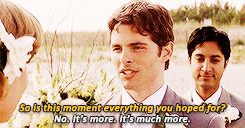 The last thing I want to see when I walk down the aisle is cell phones staring at me.
I can barely stand cell phones out at concerts, let alone on MY special day.
You know the pose. Eyes glued to the phone instead of life happening in front of them.
Check out this photo taken a wedding. No one is watching the ceremony happen. They're just watching their phone.

Lissahn from a wedding planner from Enraptured Events agrees. Phones should be left for the reception.

Trust your wedding planner. They're there to support you and your special day. I know I will.

Paige Delrey, an Instagram blogger, also plans to have an unplugged ceremony at her wedding.

I think Paige hit the nail right on the head.
Can you imagine your face being blocked by an iPhone?

Wedding photography costs thousands of dollars. I didn't pay a professional photographer for you to block my auntie's view. I don't want to be Snapchatted or live streamed by my guests. It will devalue my special day.
Beyond disrupting my moment, the cell phones and cameras make the professional's job more difficult. I want my images to be fabulous.

There will be professional pictures and a fabulous photo booth for you to utilize. We can take a million selfies at the reception, but put your phone away at my ceremony.
Autumn expressed her distaste with haters of unplugged weddings.

If you are attending a wedding, you are there to support them. You didn't pay for the event, so you don't get to decide who takes the pictures. You are there to say, "I believe in this union." You are not there to publicize their wedding.
I'm not anti-cell phone. I'm glued to mine. It's my lifeline to the world. I understand wanting to share your experience with your network. However, you need to use an appropriate moment to share at a wedding.
Tammy struggled to keep her wedding unplugged. Her family did not respect her decision.

I would have been livid. Why does a wedding need to be live streamed to Facebook? The whole world does not need to be invited. However, I do see the benefit of streaming the ceremony directly to those that could not make it.

Emma agrees Skype can be a great way of sharing the ceremony with those that cannot attend.

If I do stream my wedding, it will be professionally and will not be done by my guests.

In addition to the ceremony, I don't want to see phones out during other big moments like the first dance, bouquet toss, and speeches. Be present. Enjoy what's happening in front of you.
Like Victoria and Courtney, I'm intent on having an unplugged ceremony.

If my wedding won't be entertaining enough on its own, don't come.