Don't settle. You hear it all the time, from your professors who motivate and challenge you, from your parents who only want the best for you, from your friends who want to go out, party, and have a good time.
Don't. Settle.
No matter how much your ears bleed because of how often the statement is thrown around, there are truths and validity to the saying. Especially at a young age, it's very easy to find comfort in a partner even though the relationship comes with plenty of heartaches. The association produces stress rather than bliss, but you remain. Why?
I won't lie, I used to be one of those girls who refused to "give up on someone." I didn't want to because romantic relationships are very influential in my life and, quite frankly, a big deal. I don't take it lightly. Not including my current relationship, I've had one other serious affair. It was as serious as it can get and he had my heart in his hand. I chose this one person out of all the fish in the sea and the thought of just walking away was ludicrous. If you chose an individual, you try to make it work.
But there was an issue: I depended on the future getting better, easier, less complicated.
It's true that people mature, develop, and change over time, but when it comes to romance, don't stay becuase of the idea or hope that it will get better.
Chrissy Teigen may have told John Legend, "No," when he first complained of their relationship way back when, but when I attempted to break up with an ex who retorted, "No, I'll change," I was cautious to stay, but complied. Although Legend and Teigen have happily figured it out as their issue was senseless and, now, comical to reminisce about, my ex never changed. At every attempt I made to divide ourselves, I ended up abiding by him and waiting for a miraculous transformation.
I waited. And lingered.
Walk away. Trust me, I learned it the hard way, and you don't want to feel like you wasted a period of your life.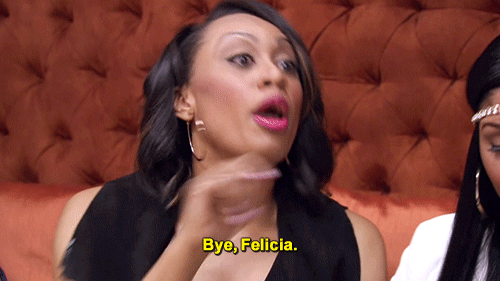 After a messy breakup and the realization that people don't change for others and solely for themselves, I was stronger than ever. People can change, but only if it's instituted by their self-soul.
You only have one life! Woah, maybe YOLO isn't so useless. Don't waste your life, energy, and breath on someone who doesn't reciprocate. They could be the most amazing, kindest being on the planet, but that doesn't mean you can have a meaningful, lasting relationship with them. If there are troubles in the beginning, there will be detrimental challenges all throughout until the tumultuous end.
Although I don't regret my past connections, the experiences I gained, the person I've become, after the split, I was distressed at the thought that I misspent my high school career on a terminated commitment. In reality, I didn't fritter away this time becuase I learned a valuable lesson about my own confidence, independence, and strength. I'm grateful for the hardships, but, most importantly, now I know when to walk away.
There are differences between bumps in the road and entire divisions of tectonic plates.
Personally, I have a few lover-problems in mind that will assure the action of me leaving a relationship. For instance, if my boyfriend mandated what I wore or who I could talk to or if he was disinterested in the problems I bring up in the relationship. Bye. I'm gone. They've lost their opportunity.
I don't mean to be so pessimistic, but, at the end of the day, he won't change: once a cheater, always a cheater. Take it from Khloe Kardashian who has endured way too many relationship scars. Have a price tag! Don't fall for every guy who compliments your beauty, gives you an ounce of attention or calls you "the one." Never forget your worth.
Wait for the guy who collaborates with you and attempts to develop the issues found in the relationship. Acknowledge that no bond is perfect. When two human beings with unique complexes come together, there are bound to be issues, arguments, and battles, but the challenge is in recognizing that certain personality traits will never change.
Red flags are warning signs for a reason, take them seriously. Don't Settle.
SEE ALSO: "Girls Don't Want The 'Nice Guy,' They Want A Project They Can Fix"